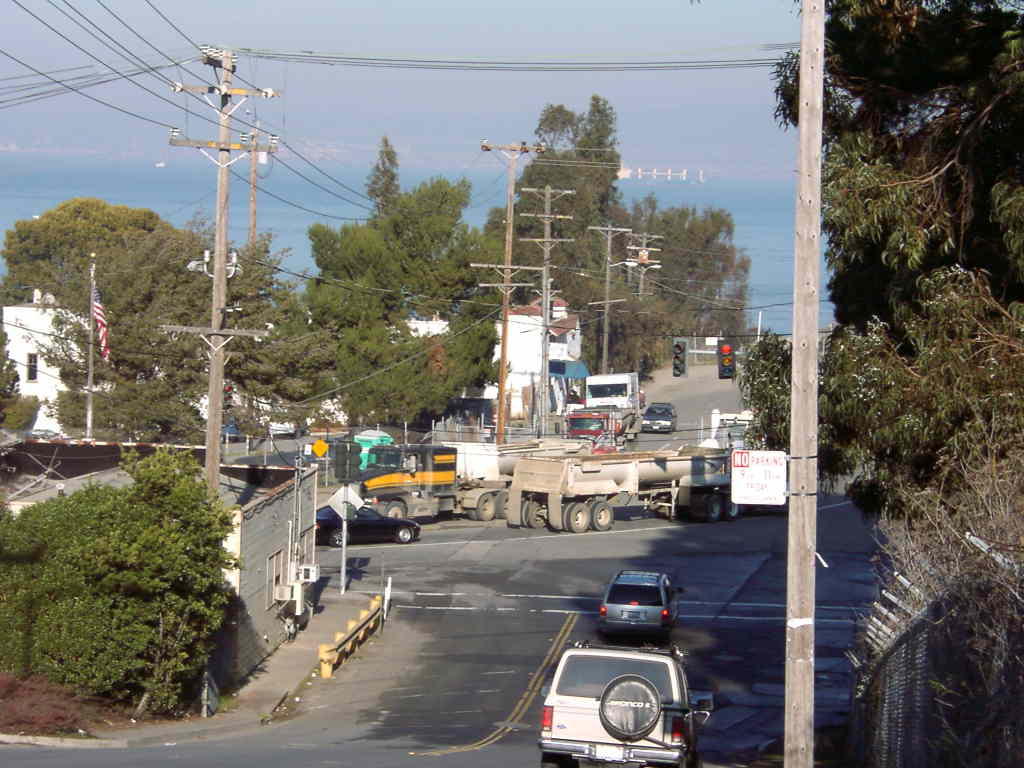 Uncovered and Uncaring


Just a few yards from the Bay: Click the picture to see what the area looks like now 01/07/2001
---
Parcel E: (a link to EPA ID# CA1170090087)
This 160-acre parcel is primarily undeveloped and was formerly used for landfilling and other waste disposal. Investigations indicate that the soil and groundwater are contaminated with VOCs, petroleum, PCBs, heavy metals, and pesticides. Two removal actions occurred in 1997 on Parcel E; installation of sheet piles to contain contaminated groundwater at the site of the waste oil reclamation ponds and installation of a sheet piles around the landfill/Bay Fill area. The RI was completed in 1997 and the FS is currently being revised and will be submitted in Spring 2001. The ROD is scheduled for July 2003.
THREATS AND CONTAMINANTS



Groundwater, sediments, soil, and surface water are contaminated with fuels, pesticides, heavy metals, PCBs, and volatile organic compounds (VOCs). Soil also contains asbestos. A landfill located on Parcel E also contains radium dials. People who accidentally ingest or come in direct contact with contaminated soils, sediments, surface water, or groundwater may face a health risk. Potential threats may also be presented by off-gas from VOCs, particularly vinyl chloride, present in hot spots in soil and groundwater.

---

The public information repositories for the site are at the following locations:

Contact the Region 9 Superfund
Community Relations Office.

The most complete collection of documents is the official EPA site file, maintained at the following location:

Superfund Records Center
Mail Stop SFD-7C
95 Hawthorne Street, Room 403
San Francisco, CA 94105
(415) 536-2000

Enter main lobby of 75 Hawthorne street, go to 4th floor of South Wing Annex.
Hunters Point - History.
Hunters Point Shipyard - Description, status and the future plans (includes opportunities and bidding).
Hunters Point Description and History - In January 1992, the Navy, EPA, and the State entered into a Federal Facilities Agreement to better coordinate the environmental investigation and cleanup.
Shaping the Shipyard - Bayview residents hope they don't miss the economic boat when the Hunters Point Shipyard is redeveloped. (from the SF Bay Guardian).
The Shipyard's Promise - A time of great opportunity (from the SF Bay Guardian).
Point Artists - The Artist Community at Hunters Point.
Hunters Point Shipyard - Artists have been working at the shipyard since the late seventies.
Secondhand Asbestos Exposure Case - $6.5 million awarded to woman in secondhand asbestos case exposure traced to shipyard in '40s.
Hunters Point Naval Shipyard - Asbestos (Were you exposed to asbestos at Hunters Point Naval Shipyard?)
Superfund Site Report: Treasure Island-Hunters Point - Contaminants Detected.
HUNTERS POINT NAVAL ANNEX - Report from California Trade and Commerce Agency
Hunters Point Restoration Background - from Defense Technical Information Center.
NIOSH Chemical Listing and Documentation of Revised IDLH Values - from the CDC.
National Oil and Hazardous Substances Contingency Plan; National Priorities List Update - EPA Superfund site.
Agency for Toxic Substances and Disease Registry (ATSDR)- Internet HazDat - Site Contaminants List.
ARC Ecology - A community-based grassroots public interest campaign for peace, environmental responsibility, a compassionate economy, and a just society in the San Francisco Bay Area, the nation, and internationally.
How to Extinguish a Landfill Fire - if it were only wood (a Waste Age Article 03/ 21, 2000)
Annual Report to the Health Commission - Lead exposure, asthma, water quality, etc - includes asthma map of SF by zip code. THIS WAS ON-LINE FOR ALL TO SEE, BUT HAS BEEN TAKEN OFF-LINE AND IS NOW ONLY AVAILABLE TO THOSE WITH CREDENTIALS AND A PASSWORD. We do have the Asthma Map (click)
Ground Water at HP - EPA Hazard Ranking System.
Shaking Intensity and Liquefaction - Can shaking intensity be correlated to areas of liquefaction? What Is the Hazard ? Is the Hunters Point Shipyard is danger?
Why is Liquefaction a Concern? - When soil liquefies, it loses strength and behaves as a viscous liquid (like quicksand) rather than as a solid. (Utah Geological Survey)
More on Liquefaction - sand boils, potentially damaging structures and underground utilities. (California Division of Mines and Geology)
Shaking Intensity and Liquefaction - Liquefaction can cause ground displacement and ground failure. In addition, it can cause lateral spreads and flows (essentially landslides on flat ground next to rivers, harbors, and drainage channels). (California Division of Mines and Geology)
HP Parcal E Landfill UpDate: Fact Sheet 2 - printable Acrobat Reader file (09/08)
Environmental Defense SCORECARD - Pollution Locator: Environmental Release Report - including ground water report.
Hunters Point Landfill: The Inside Story

- A Technical Briefing for the Community First Coalition from ARC Ecology.

---

Marketing the Shipyard - How the shipyard is being marketed by The Redevelopment Agency.
W.L. Brown - A Public/Private Partnership - CalPERS/Whitney Oaks/Lennar Corp.(from the SF Weekly).
Political Economy - Brown real estate venture snagged tens of millions of dollars in government subsidies.
Neighborhood is Sinking Into a Toxic Dump Site - "Be A Winner. Live the Lennar Life." (10/09/96 The Standard Times, FL)
Lennar Denies Responsibility for Toxic Waste Found Under Homes - done nothing to compensate homeowners affected by the watery pit in front of their homes. (CNN 10/ 23/96)
Owners of Lennar-built Homes Sued the Company - (St. Petersburg Times, 09/ 26/98)
How to prevent a nightmare from developing with your new home - Steps to take when building a new house or buying a new house or condo already built.
Air: Bayview-Hunters Point Health Concerns and Area Demographics - The Bayview-Hunters Point neighborhood has four times as many toxins as other San Francisco neighborhoods.

---

current events
Mayor Tries to Speed Shipyard Cleanup - capping one of the most contaminated portions on the southern side with an asphalt parking lot so less rigorous cleanup is needed. (Examiner 05/24/00 )
Navy's Hunters Point Cleanup - may be toxic-free in 2001(Chronicle 05/25/00).
Navy Owns Up to Monthlong Toxic Fire at Hunters Point - Everyone's been keeping it under wraps. (SF Gate-Chronicle 09/11)
Shipyard Fire Poses No Risk Officials Say - But neighbors notice multicolored fumes. (SF Gate-Chronicle 09/13)
Shipyard Blaze Ignites Concern - Toxics, Navy silence raise questions. (SJ Mercury News) (May no longer be available on-line)

EPA Faults Navy Handling of 4-Week Landfill Fire - Heavy metals, petroleum hydrocarbons and other industrial wastes are embedded throughout the 46-acre landfill. (LA Times 09/12)

Navy Feels The Heat EPA criticized the U.S. Navy. (Chronicle 09/13)

Shipyard Fire Poses No Risk, Officials Say - But neighbors notice multicolored fumes (Chronicle 09/13)

Unclear Whether Fumes Were Hazardous - Navy says air safe (Examiner 09/14).

Toxic Fire at Hunters Point Shipyard - (SF Bayview 09/16)

Navy Declares Victory in Battle Against Long-Burning Hunters Point Fire - `There has not been smoke or flames visible for 72 hours.'' (editorial Chronicle 09/19)

Navy's Landfill Fire Raises Residents' Ire - Residents crowded a Bayview Hunters Point community forum to scold the U.S. Navy for not telling the truth about a fire at a toxic landfill last month. (Examiner 09/21 )
Dear Navy: Clean Your Room - Prop P. asserts a simple but important principle - that those who spill toxic materials should bear full clean ( Examiner 09/26)
Navy Too Slow to Respond On Shipyard Fire - The Navy's accounting of the incident to date has been less than satisfactory. (editorial Chronicle 10/02)
Choking On Lies - Bayview residents are getting sick while the Navy makes excuses. (Guardian 10/04)
Move the Shipyard's Toxic Landfill Out of Here Now! - the historic town hall meeting.
Hunters Point Fault - Hunters Point Fault Story.
Cal Conservation - Official Map of Seismic Hazard Zones (look at the shipyard !!! Released 11/17/00)
Navy Commanding Officer's Guide to Environmental Compliance What rules they are supposed to be following

ATSDR Some of what they say is here, and they consider us over reactionary. Wonder why?

SFBG Radiation Study SFBG Fallout Series/Reports

Parcel E Map & Earthquake Amplification Why don't they address this it endangers us

FAS Maps Thanks to (FAS) Federation of American Scientist we have an idea what surrounds us, including radiation sources

ToxicCity By Lew Brennerman, MD, PhD good description of what we are experiencing and where we live.

Asthma Study Finds Bay View Children at Risk

Independent News Desk Breast Cancer: Cause and controversy

Benzene A human carcinogen high levels found around us

EPA Indoor Environments Division Indoor Air Quality (IAQ)

EPA TOC'S Toxic Organic Compounds

VOC'S Volatile Organic Compounds a good explanation and the health effects

PCB ESH manual Environment Safety & Health. Good explanation of PCB's handling, health effects & characteristics

Chlorine CDC Review of Toxic City

Vinyl Chloride ATSDR Agency for Toxic Substances & Disease Registry Fact Sheet

SF Chronicle Tenants Rattled by Cleanup Plan for Hunters Point. Navy's mention of radioactive waste is news to them

SF Chronicle Bay's Nuclear Leftover

Federal Register Environmental Documents Record of Decision and Reuse of the Hunters Point Annex to Naval Station treasure Island 11/20/2000

SF Weekly Down on Brown

Hunters Point Health Care Task Force Focused on Breast Health Care.

Asian Week S.F Toxic Time Bomb. Immigrants are the newest victims of Bayview-area hazards.

Science & Health Breast Cancer: Cause & Controversy Blacks Take the Hit. Featuring Hunters Point

Brasscheck The Real Hunters Point

Public Health Assessment Pathway Analyses (ATSDR)

Public Health Assement Hunters Point Naval Shipyard Annex. Conclusion ATSDR Parcel E mentioned. Please pay particular attention to item 3, and add TOCS, VOCS, Chlorine Canisters, Petroleum Products, PCB's and a plastic engineered cap. Add Liquefaction. You summarize what it equals

Methane Landfills produce methane apply this to parcel E at the shipyard, controlled it is good. Under a plastic cap?.

Methane: The Environment The Gas System. How a house was blown off it's foundation because of methane

Executive Order 12898 Federal Actions to Address Environmental Justice in Minority Populations and Low-Income Populations. Do You think this has been addressed?

Land Fill Law This has the Federal Regulations

EPA Office of Solid Waste (Landfill Laws & Policy)

Public Health Assessment Environmental Contamination & other health hazards including radiation (ATSDR)

Public Health Assessment ATSDR Responsibilities at Defense Department Facilities (HPNSY)

EPA HPNSY California EPA ID# CA1170090087

HPNSY (Hunters Point Naval Ship Yard)

Astoria Metals Ship Scrapper under judges scrutiny in SF

NCC-ACHMM Northern Cal Chapter of the Academy of Certified Hazardous Materials Manager. Metal Loading Rates From Ground Water at HPNSY to SF Bay, SF Cal. (see parcel E)

SF Guardian Poison Power

SF Guardian Choking on Lies

SJ Mercury Toxic Issues Smolder on the Hill

SF IndyMedia SF Independent Media Toxic Fire at Hunters Point- Fire Down Below

Toxics Law Reporter Hazardous Waste Law Superfund quotes Brown

Record of Decision For the Disposal and Reuse of HPNSY

The SF Times Hunters Point Development

Department of Justice Contact Links

Office of the Inspector General Links, Topics, Telephone Numbers

US Navy 1942 Seizure Hunters Point Residence Homes Seized

Public Library Anna Walden Branch depository for HPNSY cleanup records

SF Commission on the Environment Odors in the Bay View-Hunters Point Neighborhood

The Foundational Problem Understand the Money System (Understand the Sell Outs)